History: Past, Present and Future
(Original DVD-R Cover Art)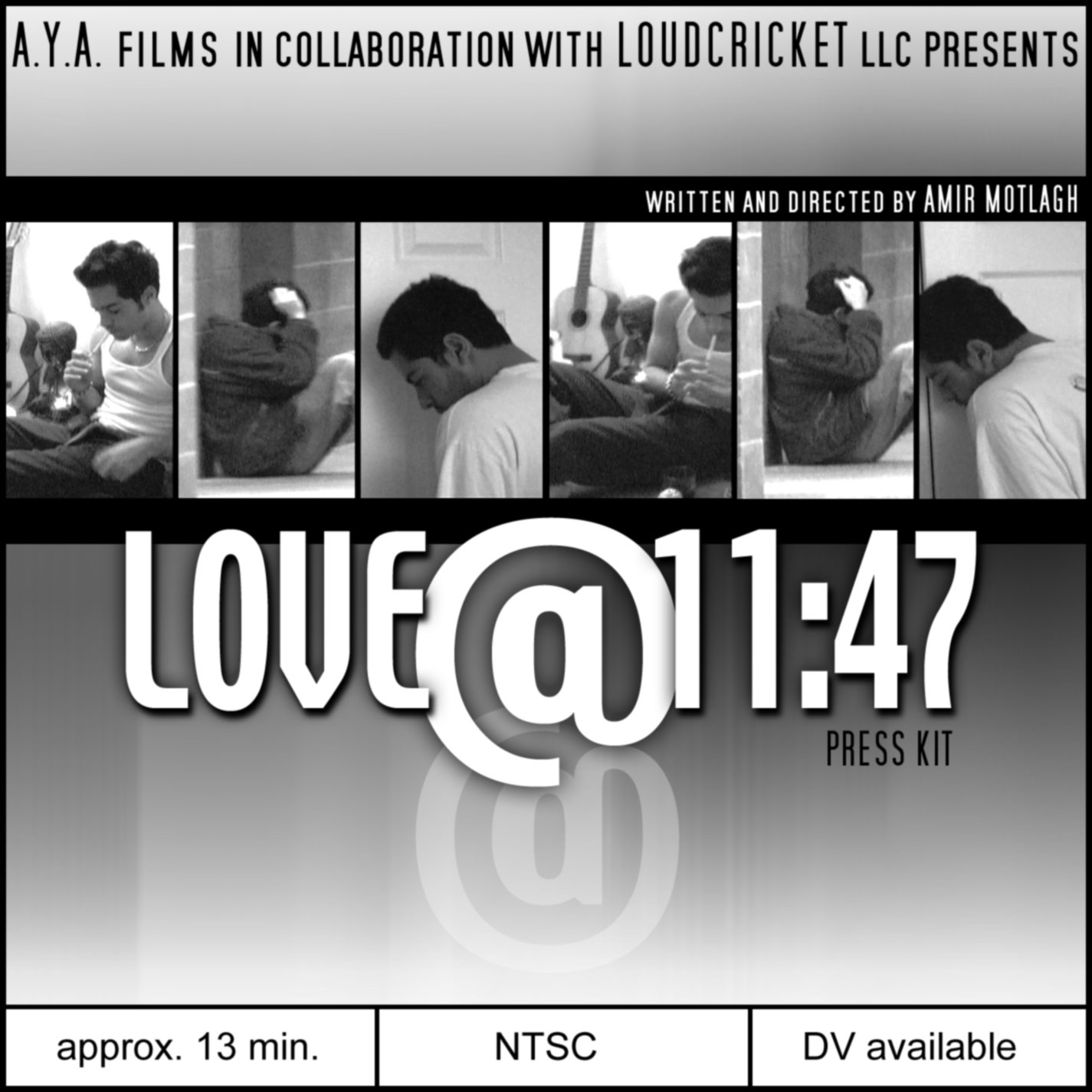 Originally finished in 2001, the first actual screening of the film was at the 24fps short film festival in Texas in 2003, or 2004. The film won the best lead actor award. It went on to screen several other times, winning an audience award at Friday Night Shorts in Los Angeles. In those days, I didn't keep track of screenings very well.
Love @ 11:47 was shot in pure Dogme 95 tradition, with only a single crew member behind the camera. The films action takes place in real time, in all single takes. However, in post, a few edits where made.
The film was one of the three original films in the "Tentative Years" DVD which was released in 2004, and was the first DVD release of AYA Films. The DVD went out of print in 2007, and the film is not available to purchase or view on the web at this time. However, their are re-release plans in the works.
I leave the original Press Kit synopsis below. For revisionist history, this is not an "experimental film" as is labeled in the press material, but, at the time, I didn't know better.
SYNOPSIS:
"LOVE @ 11:47 is short piece about the ironic nature of time, love and obsession."
LOVE @ 11:47 is an experimental short subject film about the obsessions that drive three characters into uncontrollable action. The film catches a glimpse of three people caught in the grips of mania as the clock turns to 11:47p.m on a regular night, in a place like any other. Though the characters are far from each other in space, they share the same fatal flaw that binds them together in mind and body. Love @ 11:47 is a voyeuristic view into the lives of three people that are closer to each other than at first appears.
CAST:
TONY/CHARLIE/CLIVE - Amir Motlagh
VICKI - Stephanie Lambert
CREDITS:
writer/director - Amir Motlagh
director of photography - Joseph Magazzani
editor - Tuan Andrew Nguyen
assistant editor - Amir Motlagh