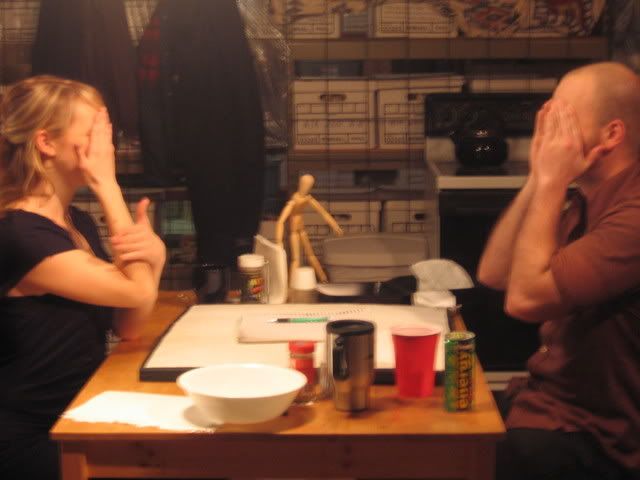 On Saturday Nov. the 15th, 2008, which is tomorrow, i screen a little short film called
knock. knock.
at The Cat Hotel in Burbank, before a comedy performance by
Neil Hamburger (
staple on
Drag City Records
, Poolside Chats on
Tom Green's
internet show, Jimmy Kimmel Live, toured with Tenacious D).  Now, when I'm writing @ The Cat Hotel, i mean it in a literaly sense.  Its not only the name of the space, but its oddly and logically enough, a luxury boarding house for cats.
This is a strange, strange scenario indeed.  To take matters further, the main lead in knock. knock. is a friend of mine, Chris Manz.  Chris Manz in real life does an internet comedy show named
The Chris Manz Show
.  In the film
knock. knock.
the character Chris, played by Chris Manz, is a comic who host's an internet comedy show called aptly enough, The Chris Manz Show. 
I commented on this once before.  Did the film come first, or the show.  I think the idea's were birthed at the same time.  So, in a sense we get a little romantic comedy that is in fact, a little postmodern.  When i first screened the intro to people who didn't know my work well (and remember this film is over a year old now) they thought it was a documentary.  Others who are familiar with how i make films generally understand that its part of my filmic language, well, some of the time.  But like everything in life, we change, adapt to new syntax, and evolve.  So am i working a style?  Thats not really a question i'd like to delve into now.  One question answered at a time, and there is time for everything, right?
Ok, now can a little comedy-romance be postmodern.  Of course silly.  Just take a look into the context for clues.  This is all a valid discussion for Sat, because our anti comedian Neil Hamburger has been labeled as a postmodern comic.  One can say that the title of a film called
knock. knock.
as a comedy is a postmodern act alone.
But i think that both Neil Hamburger and
knock. knock.
are steeped in ironic self-reference and in Neil's case, certainly absurdity.  So, without further digression...
See you Saturday @ The Cat Hotel in Burbank.  A crazy cast of characters will be there including industry guests, and its only an RSVP event, so here is the info if your in LA and interested.  Show starts at 9PM
Taken directly from Neil Hamburger's myspace page:______________________________________________
In little over a week, I will be performing at a "cat hotel" in Burbank to an audience of mostly cats.
There will be space for a few human beings to attend as well. As this is a cat kennel, alcohol will not be served, though cookies, coffee, and cat food will be available to patrons.
Rescued cats will be available for adoption. Admittance to this unusual show will be a mere $7 suggested donation. Prior to my performance, the cats and humans will be shown a short film written by Chris Manz, entitled "Knock. Knock."
Here are all the details for the event:
Sat. Nov.15 9:00PM 
The Cat Hotel 
1807 W Magnolia Blvd.
Burbank, CA 91506
You will need to RSVP, as space is limited.
RSVP to chrismanzshow@gmail.com
______________________________________________________________________________________________________
And now here are two clips from the film to consume. 
For further enquiry on knock. knock. sales, please give me a shout or contact the distributor 
Ouat! Media
Clip 1: Chris tries to convince Sharon the actress that his show is a worthwhile way to spend an evening.
[youtube]http://www.youtube.com/watch?v=2BywRjRwdMg[/youtube]
Clip 2: Chris and Karla hang out "on top of a parking structure"
[youtube]http://www.youtube.com/watch?v=00quK9-RYjs[/youtube]